With many years experience and knowledge within the exterior lighting sector Cozens UK most importantly provide a comprehensive street lighting installation and exterior lighting service in urban and country environments for villages, towns and city locations across the UK.
Applications
Firstly, our services include a broad range of public and private sector exterior lighting installation and maintenance applications to ensure well-lit public areas for example:
Residential streets
Highways and trunk roads
Signage
Housing
Amenities
Public spaces
Domestic
Car parks
Retail parks
Sports and leisure areas
Sectors
Secondly, our street lighting installation services include such sectors as:
Local Authorities
Developers
Construction
NHS
Highways
Commercial
Industrial
Domestic
Review our comprehensive client list.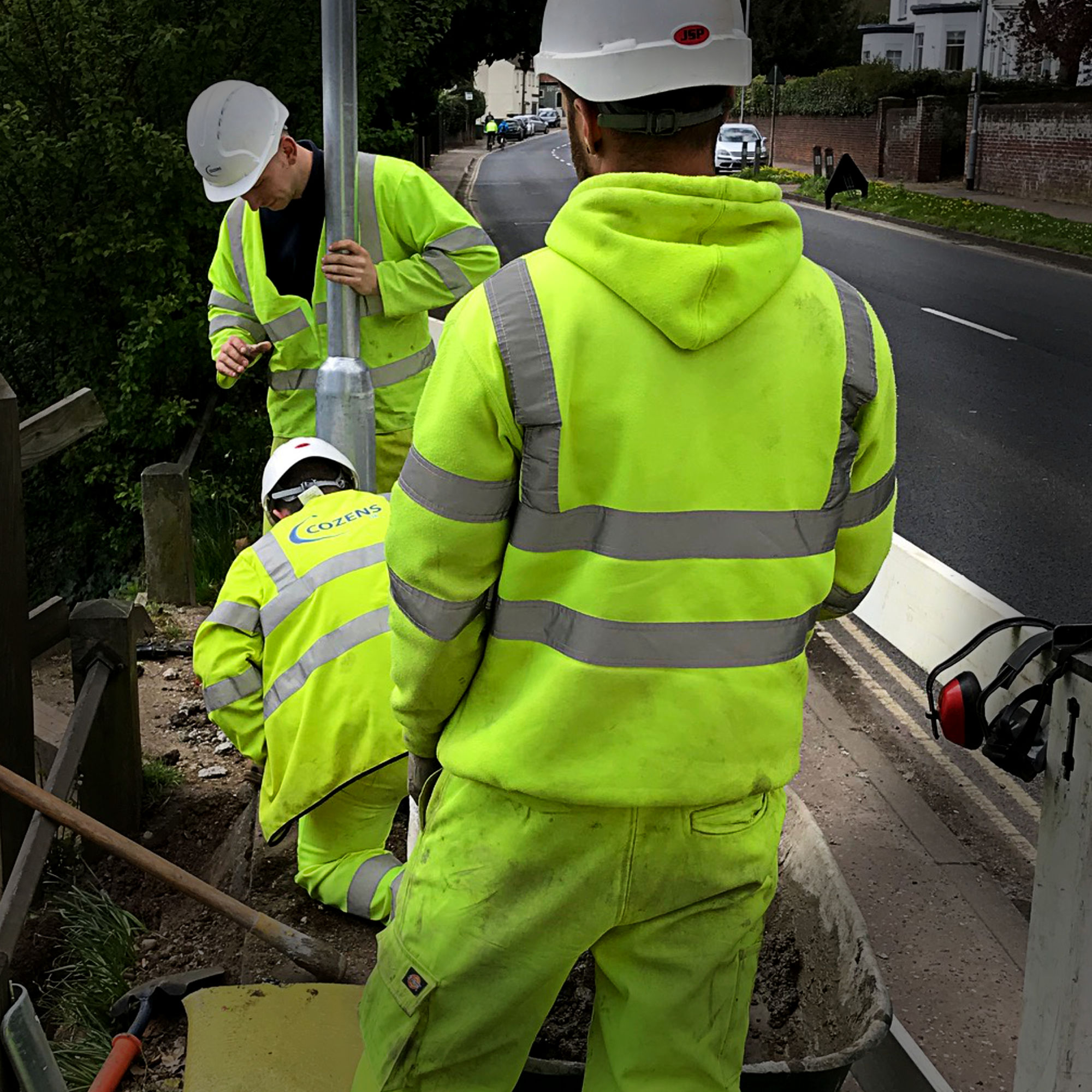 Our dedicated team of fully-qualified, innovative electricians and project managers specialises in the installation and maintenance of street lighting and electrical equipment. As a result of ongoing investment in training and plant ensures we relentlessly maintain the highest levels of service for every client throughout every project.
Whatever the scale of project we actively promote and install sustainable, low energy, cost-efficient street lighting. Therefore, with a combination of knowledge and an intelligent use of technology the local environment benefits communities with safer streets.
Whether installing street lighting, upgrading exsisting lighting to LCD fittings, carrying out regular maintenance or responding to an emergency, our street lighting contractors will ensure above all environments are made safer providing the appropriate lighting levels for public areas, the local community and passing traffic.
Our high quality comprehensive, cost effective street lighting service is based on the experience and knowledge of our electrical contracting teams. In other words Cozens UK street lighting installation and on-going maintenance facilities are services you can rely on.
In addition, we offer cost-efficient supply transfer services to new street lighting columns and likewise we're dedicated to improving and upgrading existing lighting wherever possible. Our conversion services for existing columns provide the latest cost-effective environmentally friendly LED technology solutions for street lighting installation and outside lighting requirements for public areas.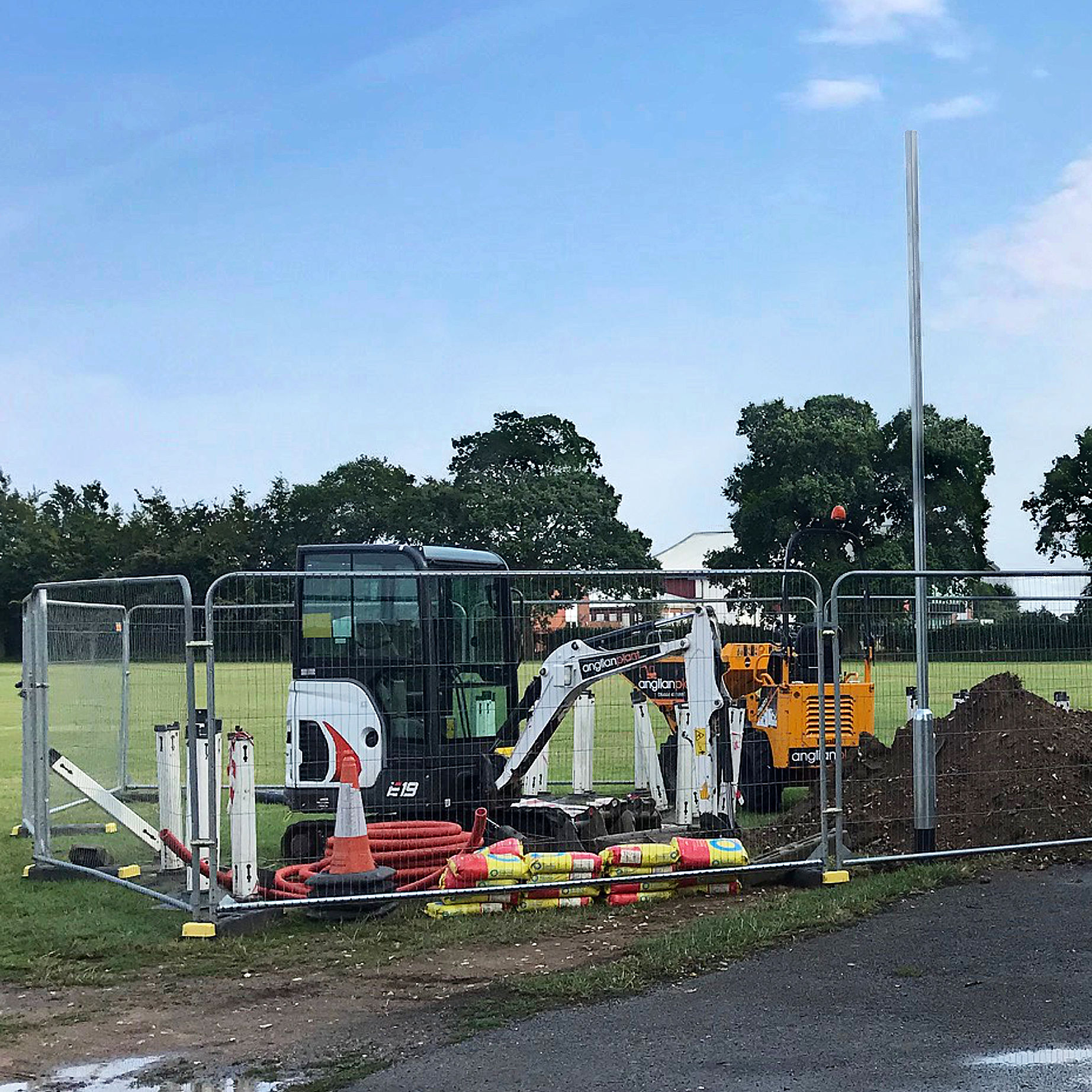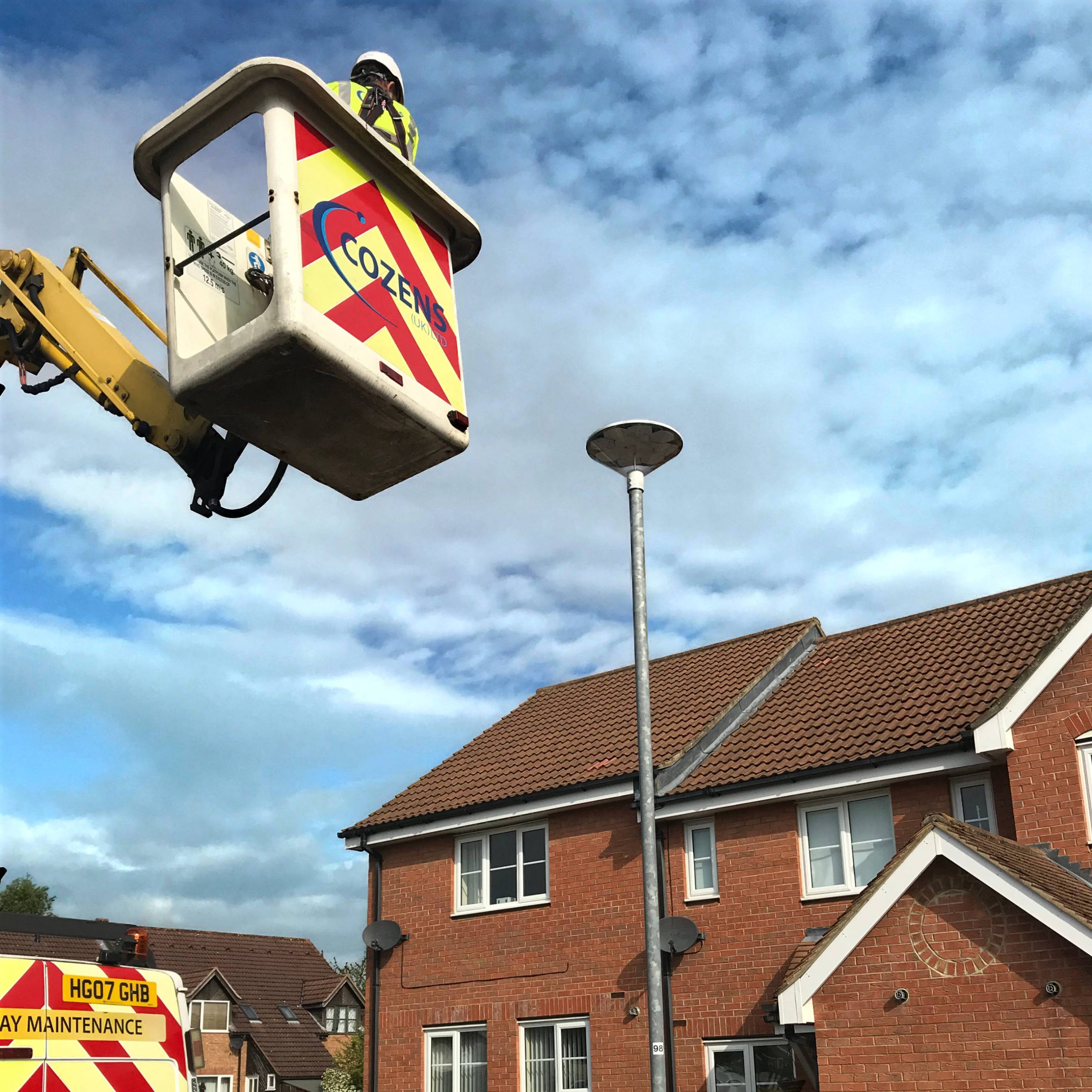 Street Lighting Installation Services:
From excavation and trenching to installing the most energy efficient LED street lights we offer wide-ranging installation and maintenance services for commercial street lighting. Disciplines and services include:
Design and feasibility studies
Environmental impact assessments
Structural and electrical condition survey reports
Energy management
Cabling and ICP connections
Column erection and removal
Column installation
Lantern installation
Column/high mast removal and erection
Column surface protection
Isolator installation
Wiring
Feeder pillar installation
Private network cabling
Excavation and trenching of cable trenches
Car park lighting protection barriers
Below ground cable jointing and repairs
Full lighting plan design and installation
Reinstatement
Ducting and chamber installation
Electrical service connection
Full LED conversion
Column painting and handover services
LED lighting system installation
Connection to electrical mains
Support ducting, wiring and commissioning
Mass LED upgrades
Electrical service connections
Ducting and chamber installation
Private supply street lighting circuits
Street lighting column installation
Waste and lamp disposal
In conclusion Cozens UK vast experience in the lighting and electrical sectors allows us to identify innovative solutions for challenges from even the most demanding of projects. Meanwhile our comprehensive electrical services include street lighting installation to Christmas LED lighting installation of buildings and monuments and much more.
For more details about our street lighting installation services contact us as we will be delighted to hear from you.