INTRODUCTION:
Cozens UK specialise in installing dazzling commercial Christmas lights and festive decorating throughout the UK. Drawing on 30 years experience we pride ourselves as being one of the only privately owned companies specialising in the design and installation of specialist commercial Christmas, festive and decorative lighting.
For many people the drama of Christmas lighting brings great excitement – the opportunity for families and communities to share the thrill and elation of the festive season.
We take great pride in designing and installing commercial Christmas light displays from London's spectacular West-End to rural communities. Whether located in a city, town centres, a shopping centre or villages, we enable that warm festive glow…in every sense.
Across the length and breath of the UK clients range from local authorities and public buildings, respected independent retailers, national high street brands to UK holiday resorts. In every case our in-depth knowledge and expertise allows us to adapt our commercial lighting installation service to meet and often exceed clients requirements.
OUR CLIENTS
Whether you require a single LED festive motif or an entire bespoke lighting scheme we strive to provide clients including local authorities, businesses and entire communities engaging experiences by providing commercial Christmas lighting solutions.
Whilst Christmas displays are occasionally taken for granted, they are however special events, a crucial asset to the high-street Christmas trading period creating real brand value by raising festive spirits, increasing awareness of the desination via public relations and encouraging shoppers to visit town and city centres. The benefits are measurable with an expanded footfall driving increased sales.
Our knowledgeable team will provide expertise at every stage of a festive lighting installation project including: survey, design, installation, maintenance, removal and storage.
As commercial light installers we work in partnership with councils, BIDS, retailers, architects, home and business owners to design and install Christmas lighting decorations based on your budget and aesthetic requirements.
Sectors include:
Local authorities
Business Improvement Districts (BIDs)
Shopping centres
Independent and UK high-street retailers
Clients include:
John Lewis
NHS
Norwich City Council
Canary Wharf
Westminster Council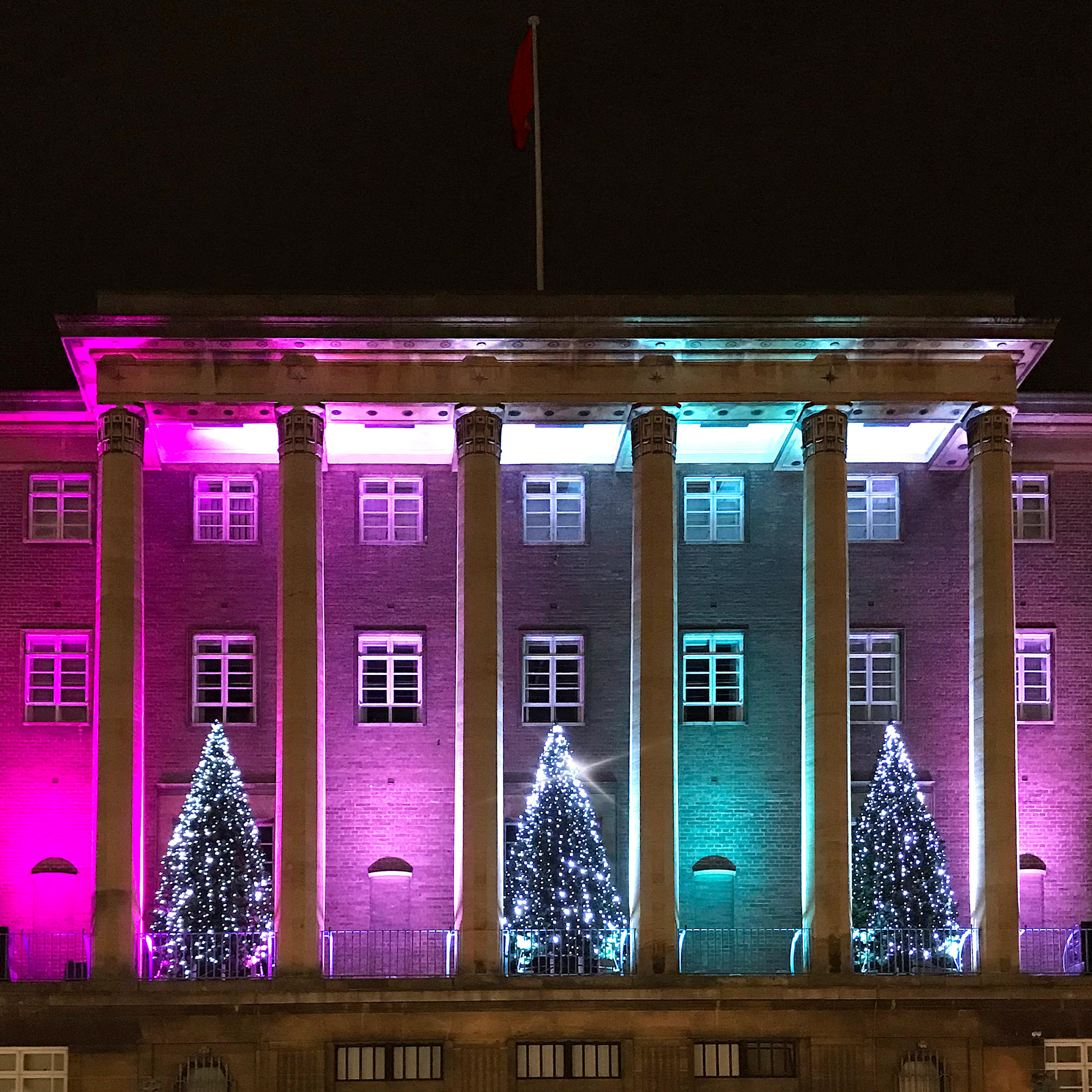 TYPES OF DISPLAY
We provide and install a wide range of services and light displays including: street crossings, column decorations, light curtains and ceilings, ground mounted features, Christmas tree dressings, Christmas trees, floodlighting and projection. There is very little we can't install and illuminate, either on a seasonal or permanent basis.
If required we will supply the very best quality Christmas lights and fittings manufactured in the EU to the highest standard. We can also offer a bespoke design service.
COMMERCIAL LIGHTING INSTALLATION SERVICES:
External and Internal Christmas lights
Icicle lights
Net lights
LED Christmas lights
Curtain lights
String lights
Lamp post motifs
LED rope lighting
Net Lights
Festive Garlands
Column mounted motifs
Architectural lighting
LED street lamp motifs
Floor-standing LED lit decorations
Evergreen or artificial Christmas tree lighting
LED cross street lighting and decorations
Icicle lighting
Festoon lighting
3D features
Ceilings of light
Architectural lighting
2 and 3 dimensional decorations
Wall mounted motifs
Large outdoor tree lighting
Roofline lighting, garland and wreaths
Shop front lighting
Building fascias
INSTALLATION OF FESTIVE LIGHTING DECORATIONS
From the installation of a single LED motif to a bespoke design and commercial lighting installation campaign for retailers throughout the UK our in-house team have over 30 years of experience and knowledge creating and installing a wide range of Christmas lighting decorations.
Where possible we source the latest environmentally friendly, energy saving LED technology for all of our projects creating many stunning dramatic effects.
Design and implementation of Christmas lighting includes solutions for small multiple to large scale Christmas tree lights for both artificial or evergreen trees for both interior and exterior illumination.
Our certified teams of experienced staff will carry out the safe installation of your display. We usually work outside normal working hours, to minimise disruption to the everyday running of your area.
We ensure your displays are not only a great success, but most importantly, safe for the general public to enjoy.
Our project managers will oversee all aspects of the display – from initial site survey, through to design, lighting installation and removal.
MAINTENANCE
We provide ongoing project management and support throughout the festive period for all Christmas lighting and decoration installations.
We will ensure the delivery of the lighting display safely to and from the location, efficiently and with minimal disruption to clients or the public.
Any necessary routine repairs and refurbishment is offered during the festive Christmas period.
We offer monitoring and service throughout the Christmas display period to ensure all lighting displays are always looking their best.
We offer a complete maintenance service throughout the Christmas period, with commercial lighting installation, monitoring and safety testing of surrounding infrastructure carried out by our fully trained in-house staff.
Following the prompt and safe dismantling of Christmas lighting displays if required we throughly test, report and repair equipment before returning all elements to clients safely, efficiently and with minimal disruption. If required we offer a service of procuring a secure storage facility.
At Cozens UK our vast experience in the lighting and electrical sectors allow us to identify innovative solutions for challenges from even the most demanding of projects. Our comprehensive electrical services include street lighting installation to decorative and Christmas LED lighting installation of buildings and monuments and much more.
For more details about our commercial Christmas Lighting installation services contact us as we will be delighted to hear from you.